Change is Hard!
As a pastoral leader, this has been a difficult season on many fronts. You have led your community of faith through an unprecedented health crisis, managed relentless pivots, made difficult decisions, and dramatically changed the models of ministry you were not just comfortable with but were competent in.
People like change until you change what they love (or are good at). And let's face it, we were not just competent at our old methodologies, systems, and structures, we mastered them. This is why (pre-pandemic), even in the face of rapidly declining baptisms, disciple-making, attendance, and giving, we were so adverse and reluctant to change our methodologies. Our competency and comfort kept us on a trajectory of complacency.
Covid-19 changed that!
Covid-19 has forced us to change the way we do things and pushed us out of our comfortable ineffective ruts. I believe God will use this to drive us closer to Him in intimacy (trusting more in Him than our methods) and toward greater innovation as we seek to discover what ministry will look like in a post-Covid-19 world.
With all major change, we need to grieve what was in order to accept what is and dream of what could be. All grief has commonalities, and the five stages of grief is a helpful tool to understand that journey. It can help you gain awareness empathy for what you, your church, and your team are experiencing.
As a leader, you are journeying these stages personally. You are grieving a way of doing things that you were very competent at and stepping into a new methodology and a different culture (digital is different) where you aren't as comfortable or fluent. It is a loss and one that can be disorientating and discouraging.
Second, consider the stages as a team leader. Journeying the stages together doesn't always mean you will journey it faster or healthier. Sometimes people can experience an arrested development in the grief journey. Therefore, be cautious that your team isn't getting stuck together in one of the stages. Also, stay on the lookout for misunderstandings with each other as everyone processes grief at different speeds and in different orders.  
The Five Stages of Grief
The following are the stages of grief that I think pastors and church leaders are currently processing and journeying. As you read through them, consider where are you and your team are in that process.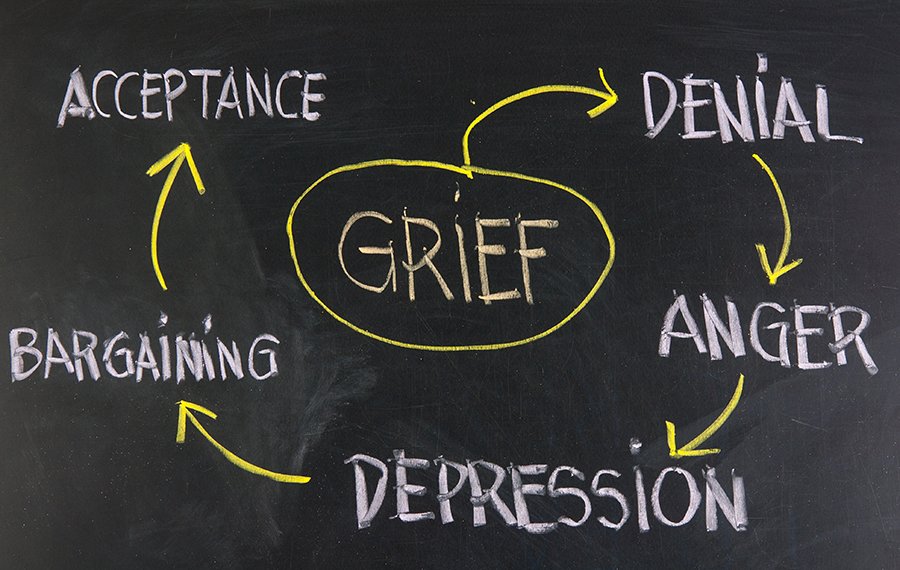 Shock and Denial
Overnight, the comfortable way of doing things changed. We went into crisis-mode. We moved online with pragmatic naivety, believing that we could just do everything digitally in the same way we did it in-person. We were mistaken. We were in denial.
I think some are stuck here, hoping things will get better or get back to "normal," unaware or unwilling to admit that 2019's version of normal is not coming back. The way we did ministry pre-Covid-19 is not returning just like the way people shopped, exercised, watched movies, and learned will not. This is not a bad thing! In fact, it holds many opportunities for those willing to embrace them. If nothing else, it has pulled us out of our complacent slumber of apathetic ineffectiveness.
Anger
After the initial shock and denial comes anger. This emotion and feeling can be quite substantial. Your family and staff have probably felt this from you. You have probably sensed this in your team. We get frustrated, feel out of control, feel overwhelmed, and start blaming when we grieve the loss of what/who we love. Don't underestimate this and the impact of this stage on your life and ministry.
Bargaining
The next stage is bargaining. This is the stage where we try to bargain our way out of our loss. Instead of moving to acceptance, we try and find another means to bring back what we love. This may manifest as a false hope that everything will be over soon, that things will just go back to "normal," or when we try and justify that things are working when all indicators tell us they are not (for instance counting 3-sec views as equivalent to a person in physical attendance).
Depression
After bargaining comes depression. Once we realize we can't bargain what we lost back into existence, we begin to accept the reality of the loss and the change at hand. As a result, there is often a feeling of hopelessness and helplessness. The future is unknown. You are unsure of what to do. You question your competency and can feel overwhelmed by the situation. This stage can grab people and hold them tightly. Be aware of this in your life and in your team. Although hope exists (on a spiritual level (Jesus will lead us) and practical level (there are methodologies and new approaches that are and will be effective)) it can be hard to see them at first.
Acceptance
The final stage is acceptance. This is where we begin to accept the loss of what was and start to see the hope of what could be. In terms of the church, this where we begin to acknowledge that our old methodologies of preaching, community-building, evangelism, disciple-making, leading, and interacting won't work anymore but something new can. Acceptance begins to dream, have hope, and move forward with faith and innovation.
Where Are You?
Where are you in these stages? Where are your teammates? Where is your team as a whole? Maybe this framework helps you understand how you are feeling and what you are experiencing. Perhaps it gives you something to discuss as a ministry/staff team as you work through the stages together.
Don't rush through the grieving process! People journey grief at different speeds and the stages aren't always linear.
Remember: You need to grieve! Grief is healthy! You need to grieve the loss of what was so you can embrace what can and will be.
Lean into grief but don't get stuck in it!