The Digital Plot Thickens: Important lessons COVID-19 is teaching the Church about the use of technology.
The Exposition: Two worlds colliding.
As someone with a keen interest in both media ecology (the study of technology/media and its effects) and ecclesiology (the study of the church), this season in the life of the church fascinates me. This is a season where these two worlds have collided, creating a storyline few writers could have conceived. In many ways, it has become a narrative case study for the impact, role and place of technology, especially in our churches.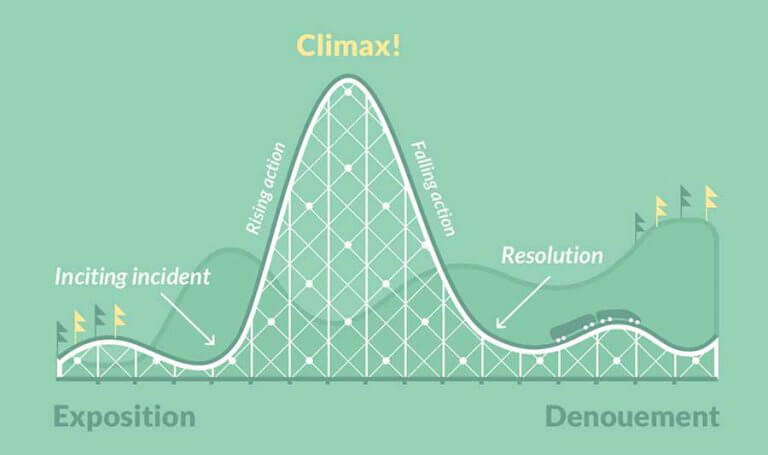 The Set Up and Rising Action: A fast pivot online.
Every good story has a narrative arc (see the graphic above) and uses plot devices to create depth, interest and suspense. The story of the church's embrace of technology in the COVID-19 crisis is marked by many of these. Two months ago, when public gatherings were suspended, the church made a fast pivot and moved online. This pivot had relative success at first but as anyone who has experienced this knows, that initial embrace soon transitioned to "Zoom gloom" and digital skepticism (as people responded to being thrown into the digital deep end and, consequently, wondering if digital ministry is truly effective long-term) with a side of nostalgia (as people began to crave going back to the way things were).
Everyone has experienced this differently, of course, but it is important to note that this experience isn't unique to the church. A similar experience is paralleled in education (moving to exclusive online learning) and business (many professions working remotely) with lessons, learnings, successes and failures that will be explored and examined for years.
Plot Twist One: Not only can the church change but the church is quite good at it.
As the fast pivot online occurred, there was a plot twist for churches: the local church discovered it can change when it needs to. In fact, it turns out that the church is quite good at it. Nothing creates change like a crisis and this crisis created change in abundance. Churches re-evaluated priorities, redeployed staff, revised budgets, reworked strategies, etc. This hidden ability (and even gift) for change tells me that the challenge for the church going forward isn't its ability to change, but rather the motivation for that change to happen. Thus, the church's lack of change in response to decline, lack of disciple-making, ageing leadership, etc. isn't because the church is incapable of change, it is because it doesn't see it as a crisis. Ouch!
Plot Twist Two: Technology will not solve our problems.
Within weeks of making the transition to exclusive online ministry, a second plot twist emerged: the church discovered that the initial promise of online ministry (increased engagement beyond traditional boundaries) was short-lived as online engagement began to drop (personally, I believe there are a number of reasons for this and I don't believe that it is indicative for the long-term). Just as the church has discovered in recent years that its discipleship crisis wasn't a content one (we have more content than ever before and yet the disciple-making needle hasn't budged), it has now discovered it also isn't a delivery one (moving online wasn't the magic solution that some had argued).
Don't get me wrong, your church needs an online ministry! If your church doesn't have a digital dimension to its ministry, this pandemic has exposed that desperate need. With the mobility of people, the ease of online access, the increasing embrace of digital learning, community and work, the church faces the unprecedented opportunity to missionally enter the arena people are increasingly living in.
That being said, before the pandemic I was in many meetings where people were pitching how the church's disciple-making problem was its lack of technology. In other words, if the church had better social media, an app or livestream options, its ministry would explode with effectiveness and expanded reach. In many ways, this pandemic has exposed and laid bare the depth of our discipleship and spiritual formation problem, and it is much deeper than we thought. Technology has its place (one we need to expand) but it will not solve our disciple-making problem – that problem is much deeper than a digital content delivery platform can solve.
Climax: Things can't stay the same.
All of these factors have led the church to a crisis/climax. What is the place of technology in the life of the church and how will we reach more people and disciple them as followers of Jesus in our new post-COVID-19 world? The church needs a plan to build disciples (this isn't the place for this, but my hypothesis is that it involves/includes a re-embrace of spiritual disciplines within Christian community) and an integrated and fully realized digital plan and strategy to support that plan.
In many ways, this season of life has exposed the depth of our disciple-making deficiency and, sadly, our complacency in it. If we end this season in the same place we entered, still believing the same misdiagnosed realities we once embraced, we will have missed a great opportunity for change. We must re-ignite our passion for disciple-making and see it as the crisis that it is. As a result, we must make the pivots needed to address it (pivots we discovered we are quite good at) and creating the digital infrastructure to support it (seeing digital platforms as a means to support disciple-making rather than save it).

Falling Action and Resolution: A new digital normal emerging.
One of our lessons is that technology is not the solution to our greatest problems, but it can help build our capacity to discover it. Our world is increasingly digital, and people will become acclimatized to a digital environment. Working from home, learning from home and worshipping from home will not fully replace personal physical interaction (this season has proven that), but it has its place and will be key to helping the church connect and fulfil its mission in our emerging world. Thus, your church needs to utilize technology in greater ways for the right reason. Technology won't make disciples, that is our job (empowered by the Holy Spirit), but it can, like our physical buildings, create the environments for this to happen.
Cliff-hanger: What will we do as a result?
All good serial television shows end its episodes with a narrative cliff-hanger. This is no different. The cliff-hanger for the church is, what will we do now?
We can't go back! We need to embrace our digital world for the environment it is while embracing our difficult calling to "go make disciples" (not conflating these in an ecclesiastical misdiagnosis).
As we move into the coming days, it is time to create an online strategy for your church or ministry. As we continue in the "COVID-19 Dance," this may be needed as we move in and out of physical gathering restrictions, but it is also needed for the future, as we enter the digital landscape in the ever-expanding mission of God.
If you are not sure what this can look like or how to do this, I want to invite you to some workshops I am teaching for Ambrose University and Seminary in August. Join me for one, two or all three days as we do this together (it is also available for university or seminary credit). Learn about how technology affects us, how to leverage different digital technologies for your church or ministry and design a fully implementable digital strategy. It will be informative, practical and interactive. Come alone or bring your team.
---
Effective Online Ministry: Understanding, Creating and Launching Ministry Online (Presented by Ambrose University)
Instructor: Rev. Bryce Ashlin-Mayo, DMin
Description: A theological and methodological exploration of online ministry with particular attention to creating an online ministry strategy. It will examine how the internet and social media is profoundly changing culture and explore how the Church can effectively engage this new medium for the advancement of God's kingdom and mission.
Details: Join us online for these three exciting professional development opportunities. Classes will run 9am-3pm with a break from 12-1pm each day.
August 12, 2020 – Understanding the Digital World: Bringing Theology and Media Ecology Together
August 19, 2020 – Understanding the Nuts and Bolts (Bits and Bytes) of Online Ministry
August 26, 2020 – Designing an Online Ministry Strategy
Cost: For all 3 workshops is $150. Single registration is available if you only wish to participate in one or two workshops at a cost of $59/workshop.
Register: https://www.eventbrite.ca/e/effective-online-ministry-understanding-creating-and-launching-tickets-106429136412?aff=ebdssbonlinesearch
Note: These workshops may also be taken for undergraduate (PST 399) or seminary credit (LE 545). To register for academic credit contact registrar@ambrose.edu
Join us and write the next chapter in your church or ministry's story!