Speaking
As time and schedule allow, I speak at a variety of venues such as schools, parent groups, church services, retreats, conferences, and special events.  Contact me
here
for more information or to discuss possibilities for your next seminar, conference, or event.  The following are a sample of seminars and topics I cover in a variety of different formats:  
Living in the Digital Age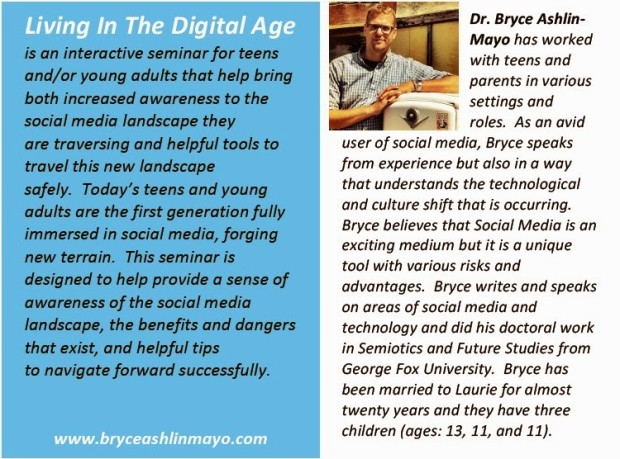 Living In The Digital Age is an interactive seminar for teens and/or young adults that help bring both increased awareness to the social media landscape they are traversing and helpful tools to travel this new landscape safely. Today's teens and young adults are the first generation fully immersed in social media, forging new terrain. This seminar is designed to help provide a sense of awareness of the social media landscape, the benefits and dangers that exist, and helpful tips to navigate forward successfully.
Parenting in the Digital Age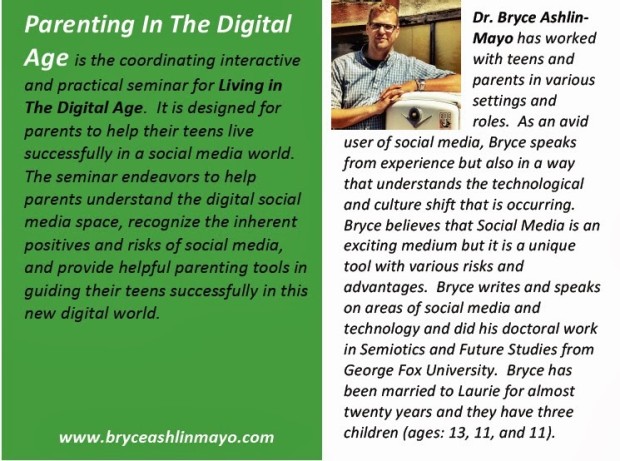 Parenting In The Digital Age is the coordinating interactive and practical seminar for Living in The Digital Age. It is designed for parents to help their teens live successfully in a social media world. The seminar endeavours to help parents understand the digital social media space, recognize the inherent positives and risks of social media, and provide helpful parenting tools in guiding their teens successfully in this new digital world.
Understanding the Changing Cultural Landscape Terraformed by Social Media.
Social media and information technology are changing our world in ways many are often unaware of. Stemming from my doctoral work, this seminar helps bring awareness to the effect media has on culture and how social media is changing the way we communicate, relate, and understanding our world.
SHIFT: Expanding Preaching in a Social Media World
Through social media, culture is going through a major shift in the same way it did through the invention of the printing press. Directly related to my doctoral work, this seminar(s) provides a practical guide to understanding the shift and how preaching is/will/must changing accordingly.
You Are Not a Machine & The Church is Not a Factory: Post-Industrial Discipleship
The church is facing a discipleship crisis. I argue that part of that crisis is be directly related to how we have viewed discipleship through an industrial lens, birthed through industrialism. This lens views humans as machines and the church as a factory. Perhaps the industrial concepts and perspectives that envelop our collective consciousness are part of our discipleship crisis? Through this seminar, I challenge conventional thinking steeped in industrialism and introduce a post-industrial model/vision of discipleship.
For a primer on this, visit here.
Follow: Following Jesus through the Social Media Fog
Social media and information technology are changing everything everywhere. This seminar(s) looks at how we can continue to be faithful followers of Jesus in the midst of the social media fog. Stemming from Scripture, we will examine several key biblical passages, narratives, metaphors, and images that give pertinent instruction for following Jesus through the social media fog.