You are not ok!
These last several weeks have been stressful and life-altering.  We are in the middle of a global pandemic.  The constant reality of this, the social distancing implications, and the perpetual threat of disease have major psychological implications.  Consider the many ways our new reality is affecting us.
As this reality is just in its infancy and the pandemic, with its social distancing implications, will be with us (in some form) for months, we need to acknowledge our new reality and its effects.  There is a reason NASA does major testing and research on social isolation for those planning to live on the international space station.[1]  Confined spaces and physical distancing impacts people more than we realize, and astronauts go through major psychological testing and are given significant training to deal with it.[2]  This is a class no one taught us in school.
The sudden shift to online work, the instant lack of personal interactions in physical space, and the notable fatigue of Zoom calls all affect us (have you experienced Zoom Gloom yet?).[3] Online social, work and school life is not the equivalent of personal interactions in physical space and thinking it is can make us confused as to why we are more exhausted or irritable as a result.[4]
If you have kids, you are now on triple duty (parenting, working and teaching) at home. Don't ignore the impact of this in your life. No one in modern history has done this before. There is no manual for this. There are multiple reasons why we have public schools and the sudden shift to online learning is affecting your kids in significant ways socially and psychologically. Thus, it is understandable why parenting has gotten harder, why your kids are struggling and why this season as a family is more difficult.
You are also grieving. You are grieving the loss of what was and what was going to be. You probably had vacation plans, activities you enjoyed that you can no longer participate in (vacations, golf, concerts, graduations, camping, etc.), and a Canadian summer we won't fully get to enjoy. Don't underestimate the impact of grief. Grief is an important and powerful process that we ignore to our peril.
Most significantly, you are probably more affected psychologically than you realize. Remember Maslov's hierarchy of needs that you studied in school? Pre-Covid-19, in Maslov's hierarchy of needs, you were probably at "Esteem" or "Love and Belonging." Now, within a matter of weeks, you have dropped to either "Physiological Needs" or "Safety Needs."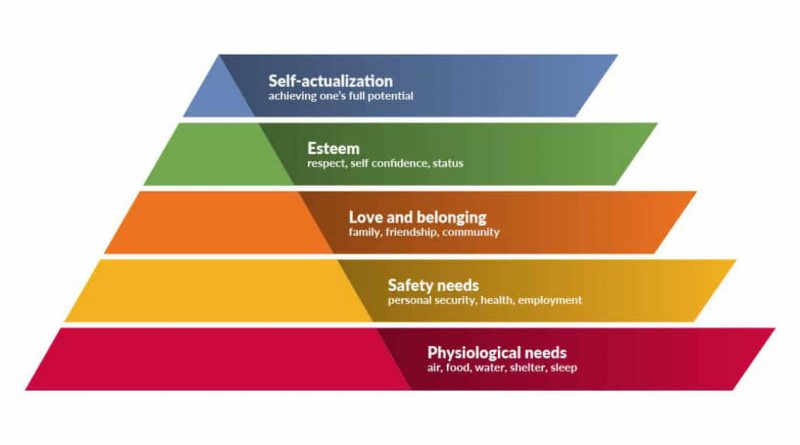 Don't under-estimate the implications of this, even if you are unaware of it.
With these and other realities you are facing, it is no wonder that you are struggling! That you are not ok! And because you are not ok, it isn't a surprise that you are experiencing the following:
Unusual melancholy.
Interrupted sleep schedule.
Strange dreams.
Strained relationships.
Tension in your marriage.
Difficultly with your kids.
Family conflict and parenting struggles.
General lack of patience and increased frustration.
Difficulty experiencing peace and joy.
Strange reactions to things and situations that don't make sense and catch you off guard (frustration, crying, etc.).
Promptings to and/or participation in unhealthy coping mechanisms in your life.
Pulling away from friends and relationships.
Avoiding activities that you would typically enjoy.
Heightened worry and anxiety.
Before we even look at ways to survive this season, it is important to note that this is where you are. This is where your team is. This is where your spouse is. This is where your kids are. This is where your friends are.
We are all not ok! We may pretend that we are, but we are not. I hope this explains a lot of what you are feeling and experiencing. I hope this gives you permission to admit to yourself that you are not ok and understand, with empathy, those around you. And, most importantly, I hope this acknowledgement can give you permission to press into your future with adjusted expectations and begin the preparation needed to survive well in this prolonged season.
Now that we have collectively admitted that we are not okay, we need to make another important admission. As long as this pandemic continues, we won't be okay for a while yet. This season will last longer than most of us realize. As a result, we need to adjust our expectations accordingly. There may be ways to survive well but if anyone suggests that you are going to thrive in this time, they are selling you snake oil. I think we need to be honest. This will be the hardest season of your family's life, your parenting journey, your marriage, your work career, your church leadership experience, etc. and, thus, to suggest that you are less than if you are not thriving, is simply ignorant of the enormity of our situation.
All that being said, it is time to batten down the hatches and prepare to survive the storm. As you prepare for the long-haul of this pandemic, consider the following as a means of survival:
Spend more time praying than you used to (even if you don't feel like it).
Be honest (with yourself, your family and others about how you are feeling and the realities of our situation).
Don't pull away from others (even when you think you should) but press in (it may feel counterintuitive). Find some colleagues and friends you can be appropriately open and honest with. Embrace community!
Try and keep a regular sleep schedule.
Keep a daily routine and keep organized.
Exercise daily.
Have fun! Do something you enjoy each day (write, create, bake, read, etc.).
If you can, get outside (appropriately social distancing, of course).
Journal your thoughts, experiences and feelings.
Speak to a mental health professional.
The above list is not comprehensive and won't make everything "better."  Again, this is a global pandemic where we are all under sustained social isolation with a shadow of sickness looming in the distance.  As the storm comes and brings its damaging rain and devastating winds, we need to admit that the storm is here and that survival is, in fact, success.  Therefore, as you enter the storm, acknowledge our reality, how it is impacting you and alter your expectations from thriving to surviving, asking for God to help you as you do.
"God is our refuge and strength, an ever-present help in trouble." Psalm 46:1, NIV
---
[1] https://www.nasa.gov/hrp/social-isolation/in-context
[2] https://www.newscientist.com/article/dn19375-how-astronauts-experience-could-help-trapped-miners/
[3] https://www.nationalgeographic.com/science/2020/04/coronavirus-zoom-fatigue-is-taxing-the-brain-here-is-why-that-happens/
[4] https://www.bbc.com/worklife/article/20200421-why-zoom-video-chats-are-so-exhausting